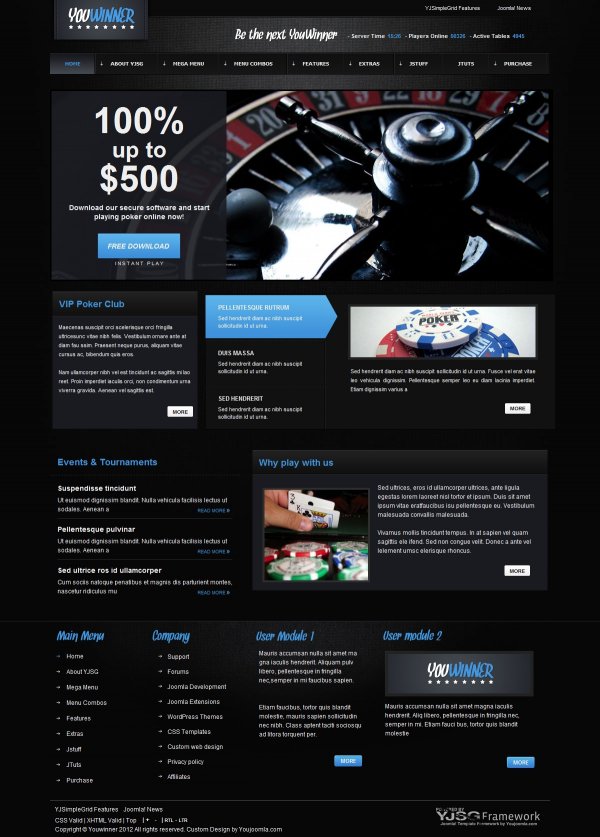 Details
Year of creation of online casino YouWinner – 2019
Number of games: more than 2000. Among them: hundreds of different slots, card and table games, games with live dealers, hundreds of virtual sports for betting, etc.
Providers: Spribe; Spinomenal; Play'n GO; Microgaming; Amatic; NetEnt; booongo; quickspin; Leap; playson; wazdan; Yggdrasil; endorphina; Evolution Gaming; Red Tiger and others.
Connected payment systems: Visa, Mastercard, Ecopayz, Neteller, Skrill.
Support languages: Russian, English, German, Spanish, Italian, Polish, Norwegian, Finnish, French, Hindi
Developed marketing policy: bonus system,
Well-established advertising, incl. SEO promotion, affiliate marketing, search engine optimization, standard and online advertising, etc.
Average number of visitors per month – 25,000
The average size of one bet is 250 USD
The price of YouWinner online casino is 180,000 USD
A small discount is possible for a real buyer.
Sale of business share: 100%
Is it profitable to invest in gambling
Of course, every investor wants to invest money profitably. Be sure that the gambling industry is one of the most risky and highly profitable. Today, when many areas of business have overcome the crisis, risk-free areas for investment can be counted on the fingers of one hand. According to investors, even in times of crisis, people still need to: eat (grocery stores), buy shoes and clothes (shoe and clothing stores), get sick (pharmacies), study (education) and gamble.
Gambling flourishes even in times of crisis. Such conclusions were made by experts. The key factor for this is the recognition of the legality of this way of earning by many countries. Online casinos are emerging from the shadows. Among the countries
in which online casinos are not limited by law, there are: Malta, Albania, Andorra, Kosovo, Liechtenstein, Faroe Islands, Belarus, Isle of Man, Gibraltar.
Having an online casino is profitable! After all, the richest people on our planet very often play gambling games.
According to Gambling.net, more than 85% of American adults have played online casinos at least once in their lives. 26% of the population (1.8 billion) in the world do it regularly.
At least once a year, the richest 5 billion people bet.
The 2021 report of the European Gambling and Betting Association shows the following data: almost 62% of Europeans bet during the year.
In 2021 alone, the net income of online casinos in the United States approached the $53 billion mark. This once again serves as strong evidence of the massive popularity of the gambling industry. Gambling is popular in Europe and Africa. Kenya, South Africa, Nigeria are considered the market leaders on the continent.
Why is it profitable to buy YouWinner online casino? You are getting:
the ability to quickly launch and make a profit;
the opportunity to get your hands on a ready-made established business for a small financial investment. For comparison, a similar product on the market costs 15-30% more.
ease of launch. The product is fully customized. You will receive a working tool already. Management is carried out through CMS. You will have stable, reliable hosting.
recognition. The online casino has an individual design that distinguishes it from its competitors. When developing the interface, we put the convenience of users at the forefront, relying on its ergonomics, simplicity and intuitiveness. And, as you know, a successful website design and a good interface are 50% of success. All gaming software is selected, configured. It is constantly updated with the latest innovations.
promotion and advertising. Yes, you will have to spend more on advertising. But all the years of work of the YouWinner online casino, we: bought links, posted reviews of online establishments on thematic portals, forums, promoted the casino in social networks. Thus, advertising previously paid for by us will act for the benefit of your business.
We will provide answers to all your questions!
Data
Property type: Full Rights Transfer (100% ownership)
Subtype: Online Casino
Lease Type: None
Tenancy: None
Lease Term: None
Remaining Term: None
Year Built: 2019